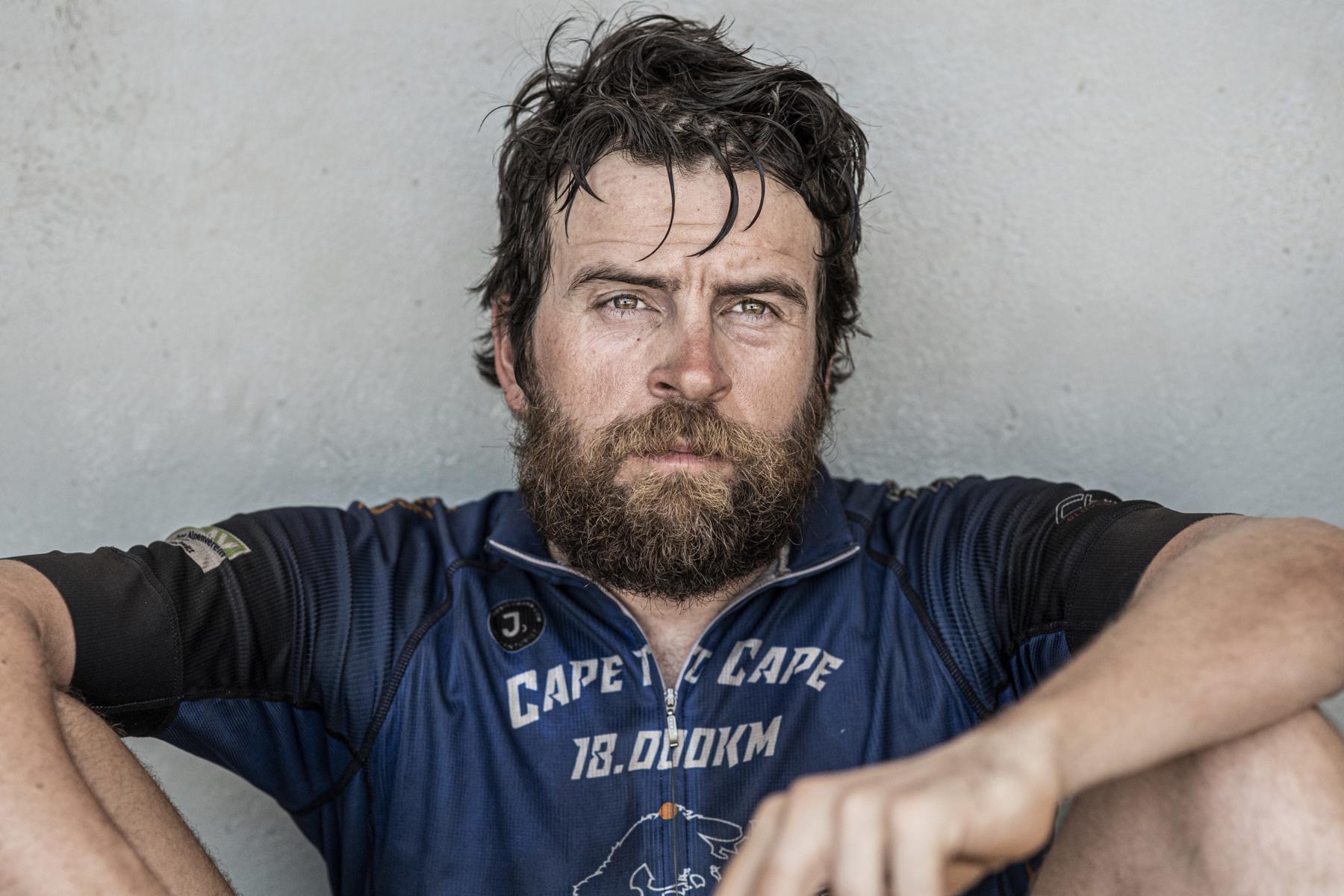 Jonas Deichmann
Athlete. Adventurer. Speaker.
Hi, I am Jonas from Germany and there is nothing I like more than going on big adventures and pushing myself to my limits. In 2017, I became the first person to cross Eurasia by human power and set the World Records for the fastest cycling across Europe and Eurasia. In 2018, I had set myself an even bigger challenge and cycled the entire length of the Americas, unsupported in a record breaking 97 days. A year later I completed my dream of cycling the world´s three big continental crossings in record speed by finishing the Cape to Cape adventure – 18.000 km from Cape North to Cape Town in 72 days. Currently, I am preparing for a new challenge in 2020. It is going to be harder, longer and much more challenging than anything I have done so far.
When I  am not on the bike, I work as a motivational speaker and have shared my mindset and inspirational stories with audiences around the world.
… or support my fundraiser for World Bicycle Relief.
With this fundraiser I want to provide 70 children from rural areas of Africa with a bike – and little bit of freedom. With your donation you make it easier for children, especially girls in Africa, to have better access to education and enable them to realize their own dreams. 134 EUR = 1 Buffalo bike.
Daily updates on my Instagram feed
DQo8ZGl2IGlkPSJzYl9pbnN0YWdyYW0iIGNsYXNzPSJzYmkgc2JpX2NvbF80ICBzYmlfd2lkdGhfcmVzcCIgc3R5bGU9InBhZGRpbmctYm90dG9tOiAxMHB4O3dpZHRoOiAxMDAwcHg7aGVpZ2h0OiAxMDAlOyIgZGF0YS1mZWVkaWQ9InNiaV8xNzg0MTQwNTcxOTc3NzM1MyM4IiBkYXRhLXJlcz0iYXV0byIgZGF0YS1jb2xzPSI0IiBkYXRhLW51bT0iOCIgZGF0YS1zaG9ydGNvZGUtYXR0cz0ie30iICBkYXRhLXBvc3RpZD0iMTE3NSIgZGF0YS1zYmktZmxhZ3M9ImdkcHIsb3ZlcnJpZGVCbG9ja0NETiI+DQoJDQogICAgPGRpdiBpZD0ic2JpX2ltYWdlcyIgc3R5bGU9InBhZGRpbmc6IDVweDsiPg0KCQkgICAgPC9kaXY+DQoNCgk8ZGl2IGlkPSJzYmlfbG9hZCI+DQoNCgkNCgkgICAgPHNwYW4gY2xhc3M9InNiaV9mb2xsb3dfYnRuIHNiaV9jdXN0b20iPg0KICAgICAgICA8YSBocmVmPSJodHRwczovL3d3dy5pbnN0YWdyYW0uY29tL2pvbmFzX2RlaWNobWFubi8iIHN0eWxlPSJiYWNrZ3JvdW5kOiByZ2IoNDAsNDIsNDMpOyIgdGFyZ2V0PSJfYmxhbmsiIHJlbD0ibm9vcGVuZXIgbm9mb2xsb3ciPjxzdmcgY2xhc3M9InN2Zy1pbmxpbmUtLWZhIGZhLWluc3RhZ3JhbSBmYS13LTE0IiBhcmlhLWhpZGRlbj0idHJ1ZSIgZGF0YS1mYS1wcm9jZXNzZWQ9IiIgYXJpYS1sYWJlbD0iSW5zdGFncmFtIiBkYXRhLXByZWZpeD0iZmFiIiBkYXRhLWljb249Imluc3RhZ3JhbSIgcm9sZT0iaW1nIiB2aWV3Qm94PSIwIDAgNDQ4IDUxMiI+DQoJICAgICAgICAgICAgICAgIDxwYXRoIGZpbGw9ImN1cnJlbnRDb2xvciIgZD0iTTIyNC4xIDE0MWMtNjMuNiAwLTExNC45IDUxLjMtMTE0LjkgMTE0LjlzNTEuMyAxMTQuOSAxMTQuOSAxMTQuOVMzMzkgMzE5LjUgMzM5IDI1NS45IDI4Ny43IDE0MSAyMjQuMSAxNDF6bTAgMTg5LjZjLTQxLjEgMC03NC43LTMzLjUtNzQuNy03NC43czMzLjUtNzQuNyA3NC43LTc0LjcgNzQuNyAzMy41IDc0LjcgNzQuNy0zMy42IDc0LjctNzQuNyA3NC43em0xNDYuNC0xOTQuM2MwIDE0LjktMTIgMjYuOC0yNi44IDI2LjgtMTQuOSAwLTI2LjgtMTItMjYuOC0yNi44czEyLTI2LjggMjYuOC0yNi44IDI2LjggMTIgMjYuOCAyNi44em03Ni4xIDI3LjJjLTEuNy0zNS45LTkuOS02Ny43LTM2LjItOTMuOS0yNi4yLTI2LjItNTgtMzQuNC05My45LTM2LjItMzctMi4xLTE0Ny45LTIuMS0xODQuOSAwLTM1LjggMS43LTY3LjYgOS45LTkzLjkgMzYuMXMtMzQuNCA1OC0zNi4yIDkzLjljLTIuMSAzNy0yLjEgMTQ3LjkgMCAxODQuOSAxLjcgMzUuOSA5LjkgNjcuNyAzNi4yIDkzLjlzNTggMzQuNCA5My45IDM2LjJjMzcgMi4xIDE0Ny45IDIuMSAxODQuOSAwIDM1LjktMS43IDY3LjctOS45IDkzLjktMzYuMiAyNi4yLTI2LjIgMzQuNC01OCAzNi4yLTkzLjkgMi4xLTM3IDIuMS0xNDcuOCAwLTE4NC44ek0zOTguOCAzODhjLTcuOCAxOS42LTIyLjkgMzQuNy00Mi42IDQyLjYtMjkuNSAxMS43LTk5LjUgOS0xMzIuMSA5cy0xMDIuNyAyLjYtMTMyLjEtOWMtMTkuNi03LjgtMzQuNy0yMi45LTQyLjYtNDIuNi0xMS43LTI5LjUtOS05OS41LTktMTMyLjFzLTIuNi0xMDIuNyA5LTEzMi4xYzcuOC0xOS42IDIyLjktMzQuNyA0Mi42LTQyLjYgMjkuNS0xMS43IDk5LjUtOSAxMzIuMS05czEwMi43LTIuNiAxMzIuMSA5YzE5LjYgNy44IDM0LjcgMjIuOSA0Mi42IDQyLjYgMTEuNyAyOS41IDkgOTkuNSA5IDEzMi4xczIuNyAxMDIuNy05IDEzMi4xeiI+PC9wYXRoPg0KCSAgICAgICAgICAgIDwvc3ZnPkZvbGxvdyBtZSBvbiBJbnN0YWdyYW08L2E+DQogICAgPC9zcGFuPg0KCQ0KPC9kaXY+DQoJICAgIDxzcGFuIGNsYXNzPSJzYmlfcmVzaXplZF9pbWFnZV9kYXRhIiBkYXRhLWZlZWQtaWQ9InNiaV8xNzg0MTQwNTcxOTc3NzM1MyM4IiBkYXRhLXJlc2l6ZWQ9IltdIj4NCgk8L3NwYW4+DQoJICAgICAgICA8ZGl2IGlkPSJzYmlfbW9kX2Vycm9yIj4NCiAgICAgICAgICAgIDxzcGFuPlRoaXMgZXJyb3IgbWVzc2FnZSBpcyBvbmx5IHZpc2libGUgdG8gV29yZFByZXNzIGFkbWluczwvc3Bhbj48YnIgLz4NCgkJCTxkaXY+PHN0cm9uZz5UaGVyZSBoYXMgYmVlbiBhIHByb2JsZW0gd2l0aCB5b3VyIEluc3RhZ3JhbSBGZWVkLjwvc3Ryb25nPjwvZGl2PjxkaXY+PHN0cm9uZz5FcnJvcjogTm8gcG9zdHMgZm91bmQuPC9zdHJvbmc+PC9kaXY+ICAgICAgICA8L2Rpdj4NCgkJPC9kaXY+DQoNCg==