Cape to Cape Challenge – 18.000km in 75 days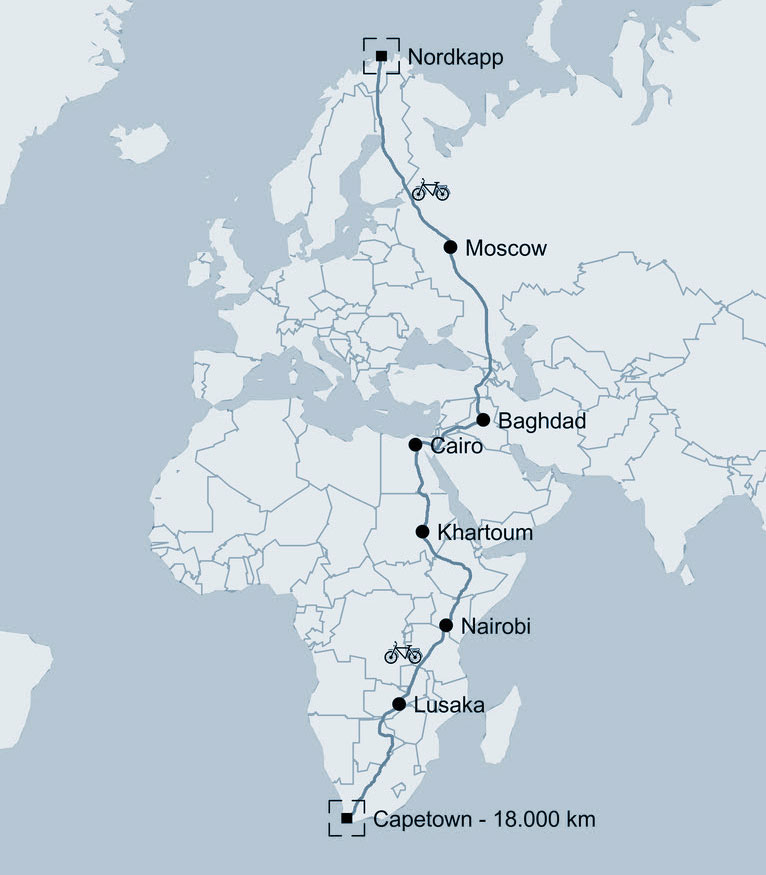 On 8th September 2019, I set off at Cape North in Norway to cycle 18.000 km to Capetown at the Southern end of Africa. I'm cycling together with photograph and ultracyclist Philipp Hympendahl riding completely unsupported, pushing to arrive in less than 75 days.
While we will be racing to break the record, we also want to have a great adventure and explore the scenery that our route offers. After a start in the Arctic and the endless motorways of Russia, the Middle East will be a foremost logistical challenge. Halfway through the ride, the real highlight starts: Africa, a continent where already the name can leave you dreaming of adventures.
The current World Record stands at 102 days, a time we will beat by a month.
Life tracker, diary and constant updates below and on Social Media.
Diary of Cape to Cape
Oktober 2019
Day 37
I wake up before my alarm since a sandstorm hits the restaurant which is just a shed. Sand gets absolutely everywhere. After the sandstorm it starts to rain. Just a few minutes but the locals are all happily running around, its a big gift for them. At sunrise I set off into the headwind. Quickly I realize that the landscape is changing. There are a few trees and bushes around and then the first farms. I am getting near to the end of the Sahara. I feel better today but still weak due to the lack of food the past days. Lost a few kg and my jersey is already moving in the wind. In the evening I get into the capital Khartoum. There have been barely any cars so far in Sudan and now arrive in chaos. Takes me 90 minutes into town until I find a decent hotel with an Indian restaurant where I eat three plates. I am out of the desert now and will speed up again.
Day 36
I feel a bit better and head out into the dark. At sunrise the wind picks up and quickly builds into a strong headwind. The sand is blown across the road and gets into my eyes, ears, nose, simply everywhere. After 95 km with an 18km/h average I stop for a Cola and a few cookies. I continue riding with equally slow progress in the afternoon and stop at sunset in a little village. The policemen invite me for dinner and the restaurant owner offers me a bed which I thankfully accept. Only 180 km and now behind schedule. Time to get out of the Sahara and speed up again.
Day 35
I set off before sunrise and feel miserable again. I havent eaten properly for three days and am still relying too much on Nile water. I find a little shop that sells cookies for breakfast but at least I can stock up on bottled water. I push against the wind but feel the lack of energy and make little progress. Luckily the road goes a bit closer to the Nile now and there are a few shops although they dont sell any appropriate food for cyclists. At noon I am completely finished by heat and wind and sleep in a restaurant. I continue when it get a bit colder and again struggle heavily. At sunset I reach a little village that surprisingly has a hotel. When I climb the stairs I am surprised to be greeted by a Russian who is looking for gold in the desert and runs agricultural projects. We had out for dinner together and he shows me a restaurant that has delicious chicken, such a welcoming change.
Day 34
Still in the dark the miners make breakfast. Tea and a few dry cookies but their hospitality is incredible. I make good progress until noon when the wind suddenly changes directions and comes at full speed from the front. It feels like I am riding with 12 kmh in an oven against a hairdryer. It sucks out my energy within minutes and I realize that I may get into a serious situation. I got the information that there is a little cafe ahead and make it with my last energy. I am completely knocked out and rest on the floor for two hours before continuing when the wind gets less. I feel absolutely miserable with stomach issues and not having eaten nothing but push through the night to get out of this remote strech of the Sahara quickly. Despite my suffering the night ride is incredible. Its full moon and the desert finally seems peaceful. After a few hours I get to a police checkpoint and they invite me to sleep there on a bed under the stars. The invitation isnt Egyptian police style but simply a kind gesture and I gladly accept. 260 km in the end after yesterdays 190. I am surprised by it after how I felt at noon.
Day 33
When I want to set off at 4am my escort is not there and they dont let me ride alone. One hour of negotiations and I finally set off. 250 meters later I am stopped at a military checkpoint. Different jurisdiction and they dont let me continue. 30 minutes of further negotiations and I can continue. A strong tailwind blows me to the border and I see a long line of Sudanese waiting in the sun. The border is closed and no one knows anything. At 11am the border opens and the Sudanese storm in. Its the most corrupt border I have ever seen. The Egyptian officers make people wait until you pay to get your passport stamped. There is no water and after waiting another 90 minutes I am completely dehydrated when I finally cross to the Sudanese side. Its such a different world. Everyone welcomes me into their country and assures that this is not like Egypt. Passport procedures take 5 minutes and instead of corruption I am invited for lunch and tea.
I had off into the desert on a small road that goes through a remote part of the Sahara with almost 1.000 km to the next city. There are no shops or anything for hundreds of kilometers and the desert heat my water supply diminishes too fast. At night I see a camp next to the road and ask for water. They are goldminers and invite me to stay. We sleep in beds that are put outside into the desert and eat a tina portion of food. I am still hungry but know that this is everything they can afford. There is no botzled water and I am back to drinking Nile water.
Day 32
One of the worst days ever on my bike. Philipp decided to scratch in the morning. He is phisically feeling better but the prospect of crossing the Sahara made his decision after he had been suffering from day 2 on. I had out into the Sahara alone. After running low on water and suffering from dehydration, I accept Nile water from a tribesman. I get quickly stomach problems and suffer heavily all afternoon in the merciless desert. After 230 km I get stopped by police at a Checkpoint. I want to continue riding to Argen at the Sudanese border but they make me stay and pitch my tent at the Checkpoint. There is no food and I havent eaten all day and its loud as they are shouting around and have their radio transmitter on. Sleeping impossible. While I can go to toilet etc. there is always someone following me. When I walk 2 meters in a different direction immediately someone shouts "stop". Effectively I feel like a prisoner.
100 km to Sudan and I am so looking forward to crossing that border.
Day 31
Philipp wakes up with food poisoning.  We ride out of the village and immediately into the Sahara. He feels weak but we continue riding as we want to get to Aswan before noon. After two hours we stop at the hut of a local tribesman. He gives us water and Philipp rests in the shaddow. He feels to weak to continue riding and goes per Taxi to Aswan into a hospital. I ride to Aswan in the heat at noon and struggle heavily. I drink 4 Liter on 60 km and go to the hospital to catch Philipp.  Unfortunedly, the police has come to the hospital and worries too much about tourists. No one has taken care of Philipp and the only thing the police wants is that I sign a paper stating that they have behaved ok. I bring Philipp to a hotel where we get some rest. We marked the position where he took the cap on GPS so he can take a taxi back and continue riding from there. Food poisoning takes 2-3 days to recover and we are going to a remote part of the sahara.  Rest days are not possible as body and mind will shut down.  Tough days ahead.
Day 30
At 5am the police escort pics us up and follows us along the Nile. After 30 km we reach the first checkpoint where they are supposed to switch. Unfortunedly,  Mahmoud the checkpoint commander is sleeping and no one dares to wake him or take responsibility. 50 minutes later we can continue cycling with a new escort.  We just cycle a few km until a new checkpoint with a similar leadership issue. I had enough and call our friend Helmy who intervenes. It worked and we cycle smooth all day. Outside Luxor the police suddenly turns and we can continue alone. Its a tourist hotspot and apparently considered safe. We continue along the Nile to the village of Al Aydah where get invited to sleep in the mosque. The major and city council all come to invite us for tea. Wonderful hospitality.
Day 29
We slept terrible as the police talking loud on the radio transmitter all night. At least we can leave at 04:30 am after water and chips which they brought us for breakfast. We have escorts all day and they change at each checkpoint. Luckily pur Egyptian friend Helmy had a few words with them and they are super friendly and organized. The police car and crew are always ready when we arrive and leave immediately. Zero problems until the evening. In the morning we ride in the desert with a strong tailwind, averaging 45 km/h until we are back in the Nil valley where wind is weaker. After 308 km we reach a small town where we want to sleep. The police brings us to the station instead of a guesthouse. Unfortunatly  no one is in charge and want to take responsibility. This goes for one half an hour until I reach Helmy and he pushes for a decision. Now they escort us to the local mosque where we sleep. The mosque housekeeper is incredible friendly and brings us dinner. Good to have a decent night of sleep after yesterdays prison cell.
Day 28
An Egyptian friend Helmy joins us for the first km until we reach the Nile Route. Road conditions are terrible and traffic too. The road first follows the Nile. It climbs out of the valley and into the dessert. We get stopped at a police checkpoint and have to wait for an hour. They want to force us on trucks wich we can't of course. I call Helmy and he negotiates that can ride but with an escort now. 50km later we are stopped again. This time they want to bring us to a hotel off our route. Again Helmy helps out and negotiates a prison cell for us. Free to leave at 04.20am.
Day 27
Transfer to Cairo. We sleep until 8am and than stay an hour at breakfast. We pack our bikes and our Iranian friend Hossein brings us to the airport. After a stopover in Sharjah we land at midnight in Cairo and directly cycle out of the city to avoid traffic. Africa finally.
Day 26
Last day in Iran. We set out in the dark and get one of the most impressive sunrise so far when the sun comes across the mountains on an empty dessert road.
We directly climb for 40km to a pass at 2000 meters before descending most of the afternoon. Temperature has risen again and makes cycling tough. After 250km we reach Shiraz, the end of leg 1.
Time to prepare the bike for tomorrow flight to Cairo and do some admin for Africa. 6.000km done now and very excited about Africa.
Day 25
Before riding out of Isfahan we stop at a hospital as Philipp wanted a treatment of his saddle sore. Its painful but possible to ride. So we set off a bit late into the beautiful desert. There are big mountains on both sides while the road goes flat between. In the afternoon a sandstorm hits us and it is hard to balanace the bike. We are happy when the road turns and the wind comes from behind.
Day 24
Right from the start we slowly climb for 1.000 meters. The climbs here are very gentle but long. When the heat comes we stop for food and the owner gives us a watermellon as present. People here are very nice. At noon the sun picks up and makes the climbing unpleasant. Philipp is struggling again, hopefully he can find new energy on the transfer day to Egypt. Once over the pass we descent urgently for almost 100 km with a strong tailwind. We barely pedal and average 50 km/h. In the evening we get into Irans second biggest city Isfahan. 250 km today but feels like a rest day. Forecast looks equally good and I am a bit sad that our flights from Shiraz only leave on Friday. Would be possible to be there before but now we will have to enjoy 2 easy days instead.
Day 23
We set off at 4am to make up for the time loss. When the sun rises we are surprised that we are in the desert. Yesterday evening everything was green and now ist rocks, sand and high mountains. The road climbs for 80 km through a valley until we reach the pass. After a short descent we reach the high plateau we will be on for the next day. Its a gorgeous desert landscape, heat and a strong tailwind. We push until late at night and stop after 320 km at a restaurant. Luckily the owner lets us sleep in a sidebuilding.
September 2019
Day 22
Terrible day on a record quest. Heavy rain in the morning and we reach the city of Rasht only at noon. Here we need to get money, sim card and a bike repair. Credit cards dont work in Iran so we look to exchange dollars on the black market but as no one speaks english it takes some time similar to the sim card. Finally at the bike shop, the mecha goes for lunch halfway ready with the repair. Its not the best place to be in a hurry. Back on our bikes we take the main road towards Teheran until we find a place at night after only 175 km. Flights from Shiras to Cairo are booked for next Friday, need to speed up across the desert.
Day 21
We start early and get to the border before noon. Unfortunatly the border is completely empty on the Azerbaijan side and the guard is sleeping. When finally someone takes care of us they are in no hurry at all. On the iranian side its completely different. Two big lines as men and women are separated and we have no idea where all these people came from. Everything is checked and we get finally through. We push hard but only make 200 km when it gets dark and heavy rain starts. Hope to make up tomorrow.
Day 20
After setting off in the dark we stop at a gas station for breakfast. The owner brings out fresh bread, butter cheese and jam. He is very excited to see some foreigners and even comes again with eggs and more jam from his grandma. Such a great hospitality here. We make good progress but at noon booth struggle with the heat. After 200 km there comes a big construction side that goes on for 50 km. We expected to reach Bilasuvar at 5pm but only get there at night as progress is so slow. Hoping for better roads in Iran.
Day 19
We ride through Georgias wine region on a flat road with high mountains on both side. Its perfect weather and a tailwind and we progress fast. At noon we reach the border to Azerbaijan. Its our First Islamic Country and we immediately get to know the hospitality. People in villages and next to the road smile and wave to us. We get invitations we politely have to decline due to our timepressure. After 270 km we reach a small Restaurant and the owner let us sleep Inside.
Day 18
Hello Georgia. Heavy climbing today as we crossed the Caucasus.  Loved every pedalstroke through this beautiful mountain landscape. We are eager to get to the mountains. Its a three hour ride to the border. There is a huge line of trucks for 30 km. There are several conflict areas around us and every truck is meticolously searched. For us cyclists though the border crossing is smooth and fast. On the other side we meet Pasi who will be filming us for the day.the road immediately climbs and we get spectacular views of 5.000 meter peaks. At noon we reach the first big pass at 2.400 meters and head down into a long valley. People are super friendly and the food is tasty. In the evening there comes another very steep climb and a bad surprise as the road is under construction for 30 km. It slows us Down a lot and we reach the village late in the evening for some tasty Patchabury. Enjoyed wvery Single pedalstroke after the flatlands before.
Day 17
We slept both horrible and are very tired when setting off. Its already warm at 5am and we feel that we are in a different climate. All day we notice the conflict in this part of the world. Military, police controls and checkpoints at regular intervals but they have no interest in us. After lunch we take a quick powernap. Philipp slept even less last night and is having a tough day. In the afternoon it gets hilly as we are riding towards the snow topped mountains. Cant wait for some proper climbing tomorrow 🙂
Day 16
A big change today as the landscape transforms into rolling hills and the people too become different. The wind is again a punishing crosswind but we ride nonstop until we reach the bigger city Stawropol after 160 km. Soon after we turn back onto a highway with no shoulder and it gets dark. Luckily we find a restaurant where the owner lets us sleep on the floor. Sleep is bad though as some drunk guests scream all night and even wake us up to invite us for some vodka.
Day 15
We start at 4am and push hard until we reach the turning point to the East. Shortly after the wind blows with such force from the side that we are very happy to have done the push. We would have been fighting the wind with 10kmh. The crosswinds are no blessing either as we struggle to control the bike in the empty steppe landscape. The road is now much quieter, the First time we can somehow enjoy Russia a little bit.
Day 14
We set off at 4am and freezing 3 degrees. We know that tomorrow very strong winds from the Black sea are coming and want to get south before. We go fast on the Smooth shoulder and take minimum Stops. At noon we already had 200 km in perfect cycling conditions when heavy rain starts. Traffic has become less and the ride is relatively safe but we decide against night riding. Just in the last daylight we find a Motel after 314 km.
Day 13
In the morning we ride into Voronezh to get Philipps phone fixed and get some bike maintanance. Its a large industrial town and we loose plenty of time to cross. At 1pm we are finally back on the highway and push nonstop until we reach Pawlows at last light. We still feel strong and would have wasily pushed further but its too dangerous. 1.000 km more and we are out of Russia and up to speed.
Day 12
We set off at sunrise for another long day on the shoulder of a high speed highway. We face strong crosswind and hills all morning until the road turns a bit east and Wind gets better. There are metal parts and dirt from trucks in the shoulder that get into the drive train and tyres. At lunch I take 3 wires out of my Tubes that my tubeless milk miracoulously sealed. Philipp drops his phone during a little repair. We hope that we can fix that tomorrow. In the afternoon heavy rain Starts again five days now and I barely remember how it feels to cycle with dry shoes. In the evening we approach Voronezh, a big industrial town. We had planned to sleep there but traffic gets very bad and we decide its not wise to ride in at night. Struggling to keep up our speed in these conditions…4 more days and we are finally out of Russia.
Day 11
We set off on the 10 lane ringroad out of Moscow. After 10km we turn onto the highway towards the Black sea and traffic immediately get less. There is a wide shoulder and smooth tarmac, the best condition we had since Finland. We average 35 km/h until we reach a crossing at noon and turn towards Volgograd. The road is narrow with no shoulder and heavy trucks passing at full speed. We wanted to stay on this road for 900 km but after 20 km we decide that it is too dangerous and turn back to the Black Sea Highway. We will now follow that route to Rostov and then merge our old route again in Chechnya.
We continue along the highway in heavy rain until we find a roadside Motel at night.
Day 10
We start into Moscow in heavy rain. The six lane highway has only 30 cm of shoulder and the trucks pass at full speed. At noon the sidemirror of a truck hits my shoulder. I am unharmed but its hard to focus when you escaped by just a few cm.
In the City Dennis, a local cyclist meets us and guides us along the best lanes on the 10 lane speedways towards Red Square. We stop at Kremlin for a few pictures and at a bike shop for maintenance as Philipps deraileur had some issues and then ride out of the City at night . In the outskirts we stop at Burger King and find a hotel.
Day 9
The terrible conditions from yesterday continue but at least a tailwind. I feel a bit sick after the cold from yesterday and Philipp has been suffering for the past week. We push hard till noon before stopping for lunch and a quick break to get warm. It feels good to be off the road for a few minutes as the constant traffic is tough to take. A lot of people have asked me before the journey if I am afraid of the post war countries we are riding through and I always had answered that Russian Highways are my biggest concern. So far I was right. In the heavy rain we push into the dark and find a quiet hotel – in a good distance to make it across Moscow tomorrow.
Day 8
Terrible day on the bike. Constant heavy rain, headwind and cold along Russia 's busiest highway. We followed the road to Moscow as there simply is no alternative. Trucks and cars pass as constantly at close distance and high speed. The noise and constant tension due to the danger are mentally tough. After 200 km we take an early stop in a hotel as the risk of getting sick is simply very high. Now we are 450 km from Moscow, looking forward to quieter and warmer times.
Day 7
A late start at 7:30 since we are tried from the late arrival and dont want to miss the hotel breakfast. The first 40 km go along a small road with one road construction after another. Constant stop and go and gravel. However, once we reach the main road we get perfect conditions. Smooth tarmac, sunny 15 degrees and a stro g tailwind that pushes us with 40 kmh towards St. Petersburg. I was concerned about the City crossing but it turns out to be super easy. Careful drivers, smooth roads and good cycling passes. This is definetely different from the cities I know from crossing Siberia two years ago. On the way out of St. Petersburg we quickly stop at the Office of my Tool sponsor the Hoffmann Group. They have prepared a great receptionand 20 people came on a saturday evening. Thanks!
We still continue riding another 60 km and stop at a hotel. Looking for food we get dragged into a birthday party. Russian really now how to celebrate but after an hour we say goodbye to get some much needed sleep.
Day 6
We start at 6am into a cold and rainy morning. Quickly the road turns into gravel and makes progress slower. We have now reached the Finish lake district and there is one Big lake after another. In the afternoon the eind finally turns and we have the First tailwind since Cape North. We continue pushing into the dark to get into Russia and reach the border at 10pm. Luckily border crossing is fast and directly behind we find a decent hotel in the industrial town of Svetogorsk. 298 km in over 12 hours on the bike.
Day 5
A very early start and 60 km without breakfast to the next City. After breakfast it starts raining heavily with strong headwind. We push for a few hours until we find a gas Station. Philipp is suffering from the conditions and needs to get warm. We continue into the rain for another 60 km to the small town of Juuka where we find a roof in Front of a shop and sleep under it. Its 290 km from Russia now and we are hoping for better conditions tomorrow to make a push to Svetogorsk.
Day 4
A late start at 8am as we have been supertired after the late arrival the day before. We say goodbye to our filmmaker Pål who had been with us the First three days. At noon we turn off the Main road to take a shortcut. I had looked at all Finish roads on maps before to ensure they are paved but after 10 km it turns into gravel. Slower progress but a beautiful road through forrest and lakes. Due to the slow going we miss the closing time of the supermarket and arrive at 10pm in a small village. We cant find anything open but at the small hospital the night shift nurse invites us to the canteen a d brings some bread. Such a nice hospitality. Next to the hospital we find a Veranda of a warehouse building and sleep there.
Day 3
The headwind continues as we are riding through endless hills. We are surprised by the t-shirt weather which make the wind more bearable. We both feel very strong and take turns in the wind. In the evening we cross the Arctic circle and reach Rovaniemi the only proper City in the North of Finnland. 290 km against the Wind, feels good to be on track.
Day 2
We set off before 6 am and turn away from the coast. Rendeers constantly cross the road and we try for a long time to get a nice picture with them. The road now leads through complete wilderness. Endless forrests, lakes and rivers and very few people.
Before lunch we reach the border with Finland and immediately feel that the Finnish build roads a bit differently. They dont build curves but instead straight across the hills. Slow Progress but beautiful wilderness. At night we find a river and make a campfire on the beach.
Day 1
A incredible start at Cape North. A perfect sky and not a Single Person as we checked the arrival times of the Tourist buses before. A bit of delay due to last minute issues so we set of at 9.45 am.
The Route went spectacularly along the Arctic Ocean with lots of hills and headwind. Only 186 km but a wonderful day on the bike.