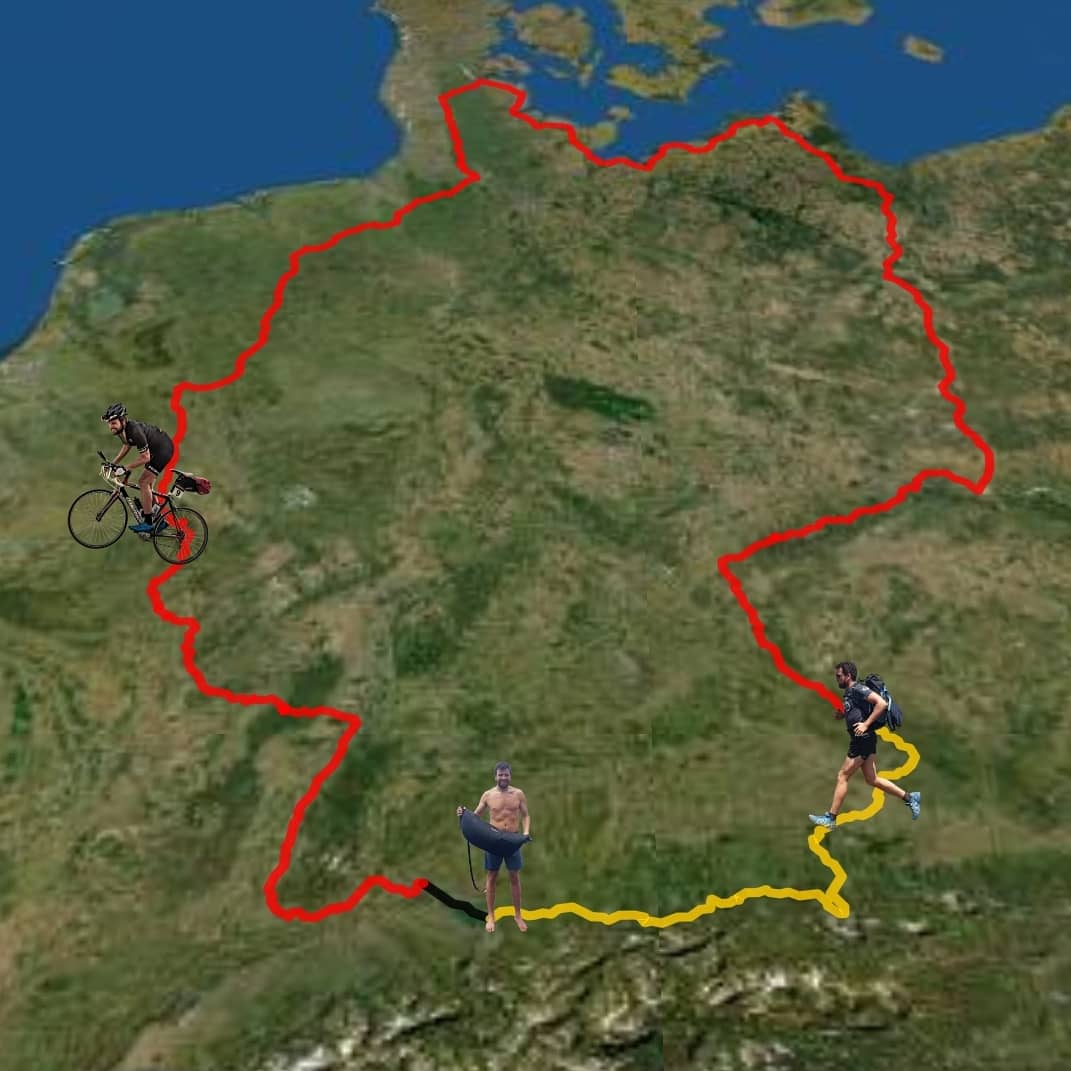 On the 22nd of July, I will set of for the first ever Triathlon around Germany – 16-times Ironman distance along the borders of my home country.
I will swim roughly 60 km from Lindau across Lake Constance, switch to the bike to cycle clockwise around Germany until reaching Bavaria where I will switch to my running shoes and finish with 16-times marathon back to Lindau.
As always the trip is without support vehicle and I am carrying all my gear with me. The goal is to do it fast but not as fast as I can. It is primarily a warm-up and equipment test for my upcoming Triathlon 360 degree – The first ever Triathlon around the world.
You can follow my journey on the live tracker and I am happy about everyone who wants to join for a bit. Please be aware that I cannot answer personal messages about my timeplan; but my performance is pretty predictable and you can simply plan ahead and wait for me on the route.
Diary of my Triathlon around Germany
August 2020
Day 14
Start in Frankfurt/Oder flat through Brandenburg with good conditions. In the beautiful old town of Görlitz I take a longer break and then continue to the border triangle Germany / Poland / Czech Republic. From Zittau it finally gets hilly again and I am now driving west accompanied by a cyclist who invites me to stay overnight.
Day 13
High speed day along the polish border. Flat roads and a tailwind all day were pushing me forward despite quiet a lot of cobblestone sections in the morning that were properly testing my bike.
Nature here was nice as its very sparsely populated. I stopped in Frankfurt/Oder after over 300km and am now approaching Saxonia and the Erzgebirge. Looking forward to some climbing.
Day 12
Beautiful and long day across Mecklenburg-Vorpommern. I set off in Kiel early morning and followed close to the coast of the baltic sea with some nice views and great company by several riders during the day. Very few people around here with long empty roads and nature, my favorite stage so far. Just having Pizza  before looking for a bivy spot and an early Start tomorrow along the Polish borders.
Day 11
Long day around Schleswig-Holstein. I took the ferry across the Elbe early morning and then cycled north towards Denmark with great company on small empty roads. Passed the halfway mark of cycling around in Flensburg at noon with strong tailwind all morning. In the evening two cyclists from Kiel joined and I followed the dinner invitation after 260 km.
Setting of from Kiel now to ride along the Baltic sea towards the polish border today .
Day 10
Super flat day with less than 200 meters of climbing through Friesland. Mostly nice and empty roads, some good company but definetely a severe lack of hills for a climbing like me. Just having dinner and then i will look for a nice sleeping spot next to the Elbe as i missed the last ferry to Glückstadt. Will take it early morning tomorrow and make my loop around Schleswig-Holstein with lunch in Flensburg and probably dinner in Kiel.
July 2020
Day 9
Long day in the saddle with 275km completely flat along the dutch border with great Company all.
Patrick was joining for the first half and another group joined at noon.
I pushed further into the night with a motivating invitation for a barbecue and beer in Wietmarchen.
This Triathlon is turning into a beer tasting journey with great local beers the last three nights.
I have now reached Niedersachsen and will cross the Elbe into Schleswig-Holstein tonight.
Day 8
The first real mountain steppe through the Eifel. To the start it goes along the Saar and I am not alone for long. After a few kilometres Ralf is waiting for me and accompanies me all day long until Aachen. From Trier it gets wavy along the Luxembourg border through beautiful nature. A hardly populated area and we actually don't pass a supermarket for 140 kilometres. The climbs are not long but continuous and with wide views to Luxembourg and later Belgium. Today the conditions are ideal with little wind and great weather. For the last kilometers the boys from Ryzon, a photographer and two other companions join us and we roll together through the national park. Shortly before Aachen there is a small stop in the beer garden and today we also have a place to stay overnight. 250 kilometres with 3300 metres of altitude difference, the last ones for the next few days, because from now on motorway bridges are the mountain classifications.
Day 7
Great day on the bike. Got a lot of company with several people joining for some streches of my route. Nice climbing through Pfälzer Wald in the morning and then some strong headwinds in the afternoon through the Saarland. Now approaching Trier early morning.
Day 6
Finally back on the bike. After a good breakfast I start at 8 o'clock always along the Swiss border. On mostly small paths it goes hilly until Basel and then flat through the Rhine valley. At noon it gets very hot and I take an ice cream break. I enjoy every moment and notice how my body slowly recovers from the swimming injuries. After 254 km I treat myself to a pizza and look for a place to sleep. I am looking forward to the next days on the bike.
Day 5
I start at 7 in the rain and make good progress.  The wind forecast indicates strong headwind from noon on and I accelerate. The first 9 kilometres go well, always along the lonely and spectacular south shore.  Here there is a deep break-off edge and I usually don't see the reason.  At noon the wind and the waves come and I hardly make any progress. The last kilometres to Bodman are extremely hard with partly current and strong wind.  In Bodman I get out of the water and change to the bike. My father and some cyclists wait and accompany me on the first 35 kilometres to get warm. I am happy to be with my paradise discipline now and my body can recover a little.  It was a very good test for the big triathlon in September and I will make some adjustments. But the most important thing: If you can swim 70 kilometers, you can swim 460 kilometers, it just takes a bit longer.
Day 4
I start before 7 o'clock to escape the wind and swim the first seven kilometres without any problems.  In Habnau I am just about to go ashore when a stand up paddler comes towards me. A reader of the Triathlon Magazine, and he has sweet pieces with him. Shortly after that another cyclist appears with coffee and pretzels, the break gets a little longer. 4 kilometers later I reach Meersburg and circumnavigate the port. Afterwards a tail wind comes up and I make fast progress. Meanwhile I have several open wounds from sunburn and an old bicycle injury. Will definitely change something here for the big triathlon around the world. In the evening the lake gets calmer and I cross near Mainau to escape the strong headwind tomorrow.  It's now almost 20 kilometres and only 15 to Bodman. I am looking forward to the bike.
Day 3
After a bad night in the park I walk around the big ferry terminal in Friedrichshafen and go into the water at the quay wall.  Suddenly 2 waiters come and ask if I can get you two chairs from the lake. Drunk people apparently threw them over the railing last night. As a reward I get invited for coffee and croissants and start a little later.  The first 5 kilometres are going well until suddenly strong wind from the front and waves appear.  The raft keeps pulling me backwards and I hardly make any progress. After a break I swim on in the afternoon, but only very slowly. After 10 kilometres I reach a beautiful island and spend the night there. I would have been able to swim a little further, but then I couldn't find a place to sleep in the city.
I have now learned that headwind on the water is much heavier than on the bike and I will start earlier tomorrow.
Day 2
Perfect conditions in the morning without waves and wind. I make very good progress and after 7 kilometres I take my first break. The only difficulty was the crossing of a big marina. Only after several minutes there was a bigger gap to swim across quickly. After the break the water became very shallow. I swim far out, but still I keep hitting the ground with my hands. Despite 50 sunscreen my neck is now totally burnt. The last kilometers to Friedrichshafen are stretching and I run out of food. After 15 kilometres I reach the city and get out of the water in front of the big harbour. I have to go around it because of the many liner ships. Directly at the harbour I find a supermarket and buy my food for the next day. With wetsuit and raft I draw some curious looks. I treat myself to a pizza and look for a park where I bivouac for the night.
Day 1:
I start at 1:00 pm from the Lindau Island. A few local media and someone kayak came to accompany me the first few kilometers.  There is a light headwind and current but I make good progress. My raft lies well in the water and only slows me down minimally. After 4 kilometers I swim ashore at a small swimming spot and eat something. In the water I eat a bar every 20 minutes but that is not enough and a big challenge when swimming.  After a short thunderstorm the lake becomes calm and windless. Perfect conditions and a beautiful sunset on the remaining kilometers.  In the twilight after 10 kilometers I am searching the shore for a place to sleep when a SUP suddenly appears next to me and invites me home.